Carwash Area
Eliëns Carwash Area offers a complete solution for both self-service and carwash enthusiasts. There are several self-service bays and a fully automatic carwash that washes cars and vans scratch-free, up to a maximum height of 2m20. The combination of a soft touch carwash and the use of high-quality, environmentally friendly cleaning products gives an excellent washing result!
Wash your car quickly and easily
Don't feel like fumbling with a garden hose or you simply have no time to wash your car by hand? Or perhaps in your residential area you're not allowed to wash cars in the street due to the environment? Our 40-meter-long textile carwash washes your car or van (maximum height 220 cm) quickly and thoroughly. It goes without saying that quality is our top priority, we use the latest techniques so spot of your car is missed!
Inexpensive
Eliëns Carwash has 4 washing programs and every program guarantees to wash your car completely clean, even in places that are difficult to reach. This starts at 8.00 euros per wash.
Easy payment
At Eliëns Carwash you can pay electronically. All major credit cards are accepted, as well as PIN and the leasecards from Multi Tank Card and Travelcard.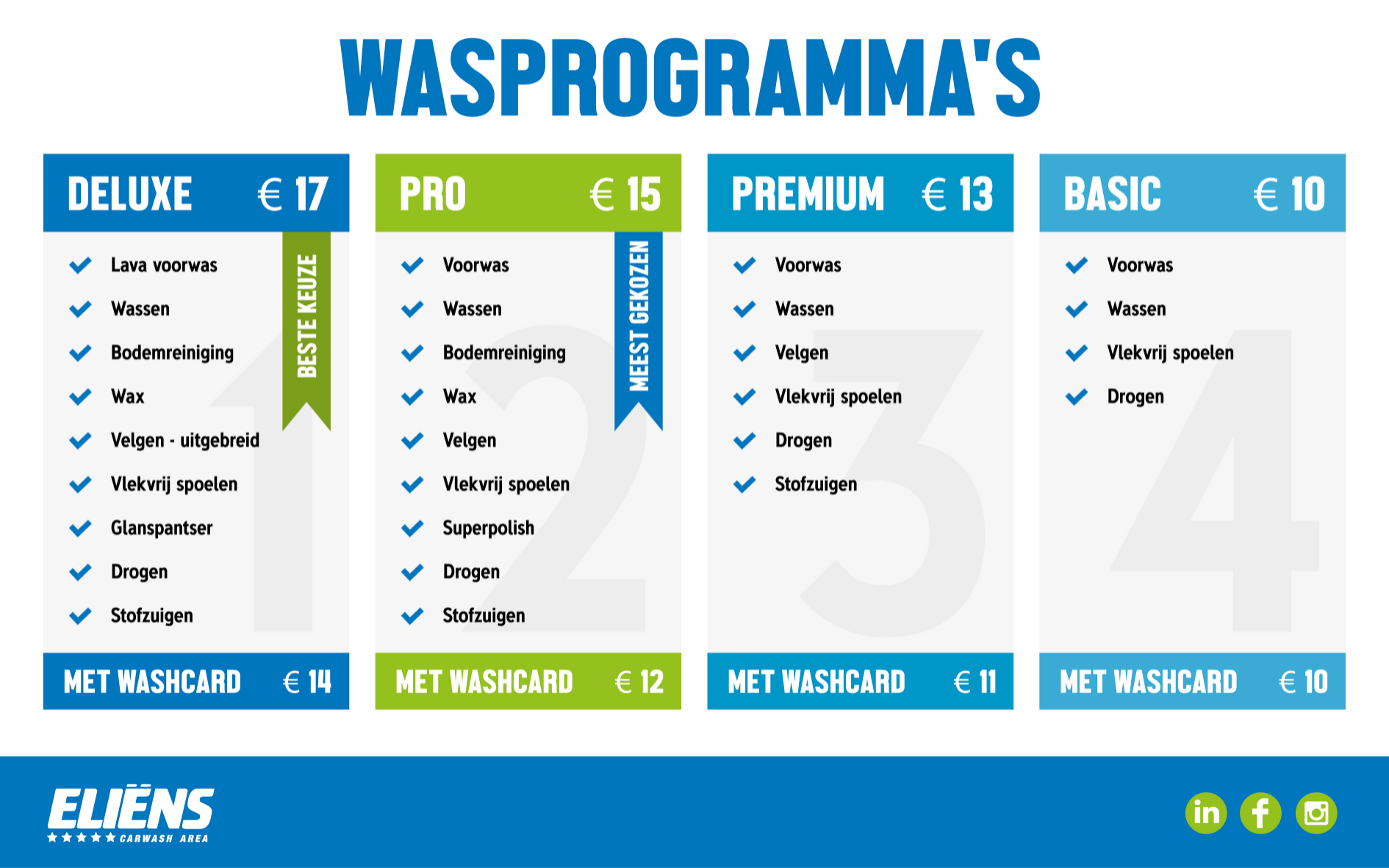 Step 1: Pre-spray arc
Before entering the carwash tunnel, you will pass the pre-spray arch. The car is sprayed with recycled water and ensures the paint cools down during high temperatures, this gives better results with the wash.
Step 2: Manual Pre-wash
An employee of Eliëns Carwash advises, arranges your payment and inspects your car. Your car is pre-washed manually by rinsing under high pressure using heated water so that insects, oils and bird droppings liquefy faster. Subsequently you drive your car up the conveyor belt, which automatically guides your car through the carwash, according to the program you have chosen.
Please note the following:
* Engine remains on
* Gear free, automatic "N"
* Brakes loose, no handbrake
* Do not steer
* Rain sensor / wiper off
Step 3: Soaking
The carwash applies shampoo to your car, which is left to work for a while to soak off all the dirt. This way the paint is prepared for extensive treatment, even in places that are not so easy to reach. Next the carwash sprays your wheel rims or hubcaps with a thorough cleaning product.
Step 4: High pressure cleaning
Using plenty of water the carwash removes all dirt in a gentle but effective manner, your wheel rims or hubcaps are pre-washed under high pressure. As an option in you can also choose to clean the bottom of your car that helps prevent rust.
Step 5: Wash with soft cloth strips
The carwash soft cloth strips wash the front, side and back of your car with a measured dose of shampoo and plenty of water. Result: a shiny and spotless car.
Step 6: Wash the wheel rims
The wheel rims of your car also receive special treatment! Wheel brushes with high-quality cleaning products ensure maximum cleaning of your wheel rims.
Step 7: Apply wax / polish
To protect the paint of your car optimally, the carwash generously applies wax or Superpolish to your car. Superpolish is sprayed on as a foam and rubbed into the paint with patches. It brings back shine into your paint and makes your car easier to remain clean.
Hot wax
Produces a dirt-repellent surface, providing long-term protection against aggressive environmental influences. It is also suitable for the care of convertibles.
Superpolish
Provides a long-lasting shine effect and increases the colour intensity of the vehicle paint.
It closes the paint's pores so the finest scratches in the paint disappear.
Step 8: Stain free rinse
The carwash rinses your car thoroughly with Osmosis water. This water contains no lime, iron or other minerals and harmful substances. This is how Eliëns carwash guarantees a spotless car.
Step 9: Drying
The drying area of Eliëns carwash dries your car with powerful airblowers. The water is completely blown off your car.
For the real car enthusiast
Do you prefer to wash your car yourself? You can give your car a complete wash in one of our 7 self-service bays, where you can go at your own pace.
Wasmunten
In our spacious bays you will find a high-pressure cleaner, a foam applicator and a washing brush. The machines in the bays only operate with Eliëns washing coins. You can get these in the gas station shop, at the change machine or in the carwash.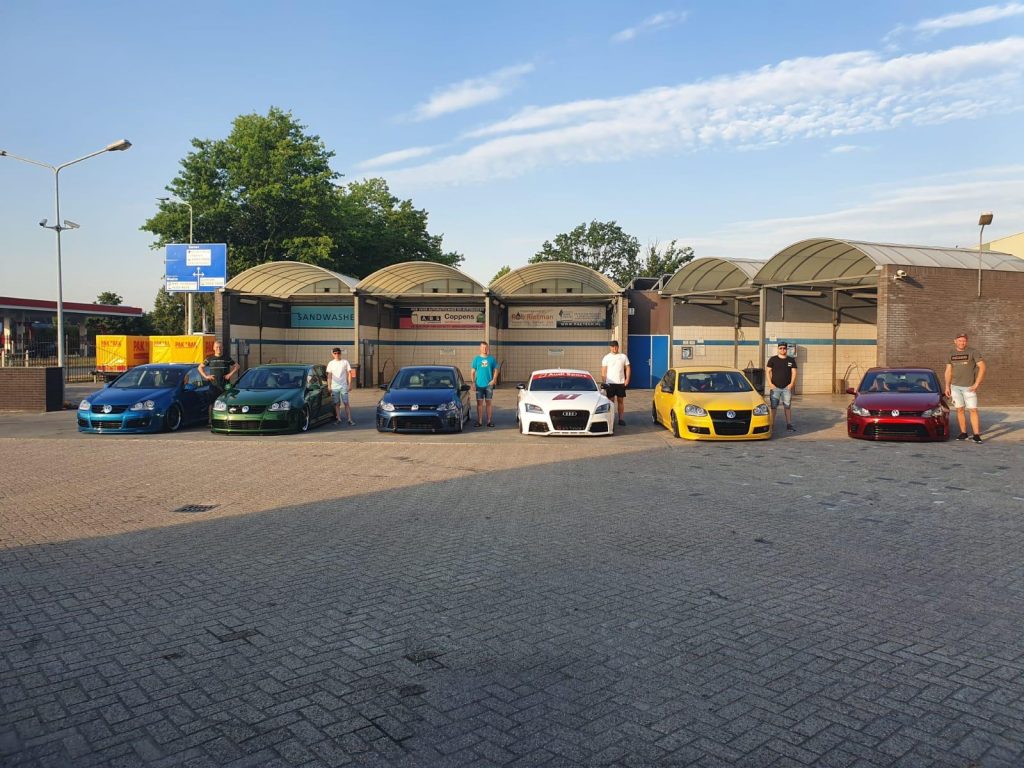 For € 5.00 you will receive 5 coins and for € 10.00 you will receive 10 coins and 1 coin for FREE!
What is the best way to wash your car?
First foam your car with the foam applicator, this special shampoo soaks off the dirt.
Use the shampoo high-pressure jet or use the washing brush with shampoo. For stubborn dirt it is best to use the shampoo high-pressure jet first and then the washing brush.
Rinse off the foam residues with water from the high-pressure cleaner (program choice: rinse).
Now your car is completely clean, you can treat it with wax or hot wax – from the high-pressure jet. The advantages of wax are that your car will have an extra shine, stay clean longer and is easier and faster to clean during the next wash.
Optionally you can use the shine dryer with the high-pressure jet. The osmosis water makes subsequent drying unnecessary, allowing your car to dry spotless.
Finally, you can vacuum your car at the vacuum cleaner area. Our powerful vacuum cleaners use the same coins.
Free vacuuming after washing in the carwash
Have you washed your car in the Eliëns carwash? At the exit you will automatically arrive at the vacuum cleaner area. If you have used one of the Comfort, Brilliant or Glanspantser washing programs you can vacuum your car for FREE. You will receive a coin from our employee during the payment process.
A tedious job?
Vacuuming your car can be a daunting task as most "regular" vacuum cleaners do not remove all dust, dirt, sand or mud. Eliëns Carwash Area has a special vacuum cleaner area where you can clean the interior of your car and the trunk with one of our powerful vacuum cleaners. You have 8 minutes with one coin, so plenty of time for this. It's quick and easy!
Pay attention!
Our vacuum cleaners are so powerful that they suck up everything in your car so always remove your valuables in advance, sucked up items cannot be returned.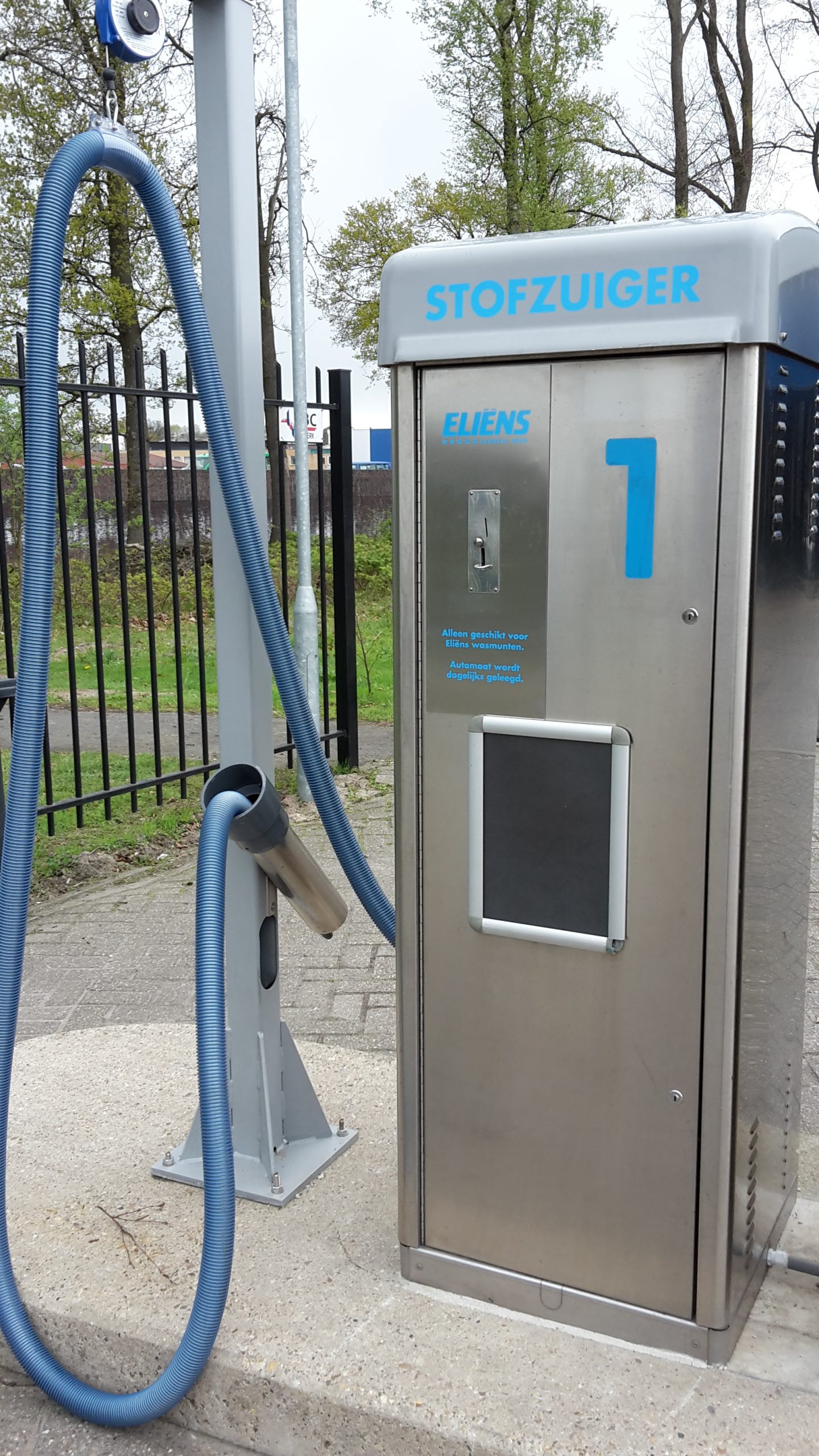 Washing your car in an environmentally friendly way?
All products in our carwash are environmentally friendly and biodegradable. So not harmful to humans, animals and nature! For the most part, we work with filtered clean and high-quality groundwater, which is recycled for 75% and then buffered. We generate part of the energy for the hot water in the washing bays with solar panels. This way our carwash meets all standards of liquid-tight regulations and corporate social responsibility. The residual wastewater that is not recycled is removed via an oil and grease separator.
Organic filtering
Eliëns carwash features three underground tanks of 10,000 liters each to settle the used washing water so that dirt particles can settle. Bacteria act on the dirt particles and purify this water in a biological and natural way. Afterwards the water is filtered and ready for the next wash.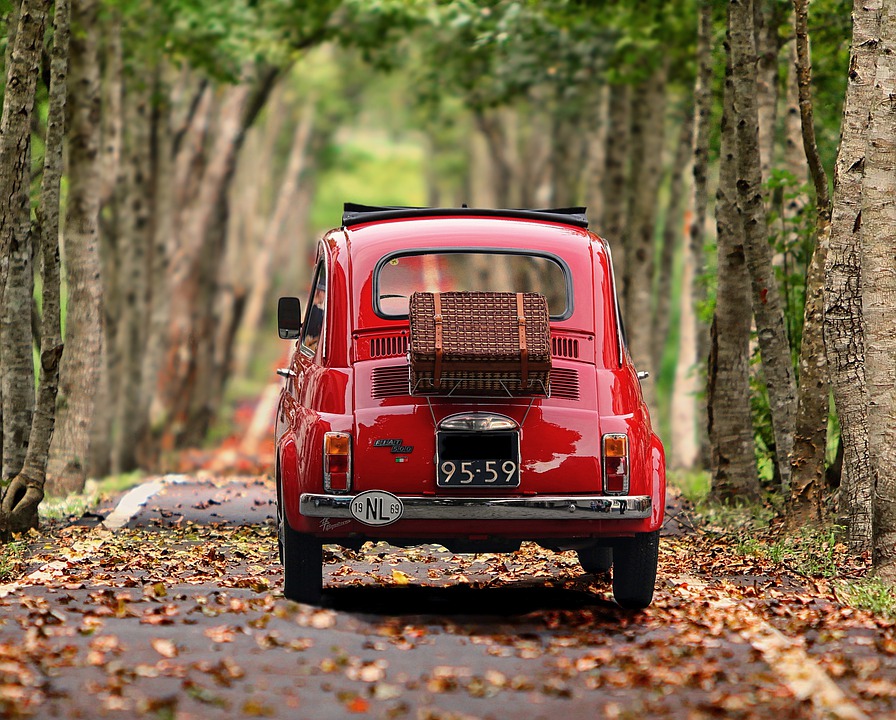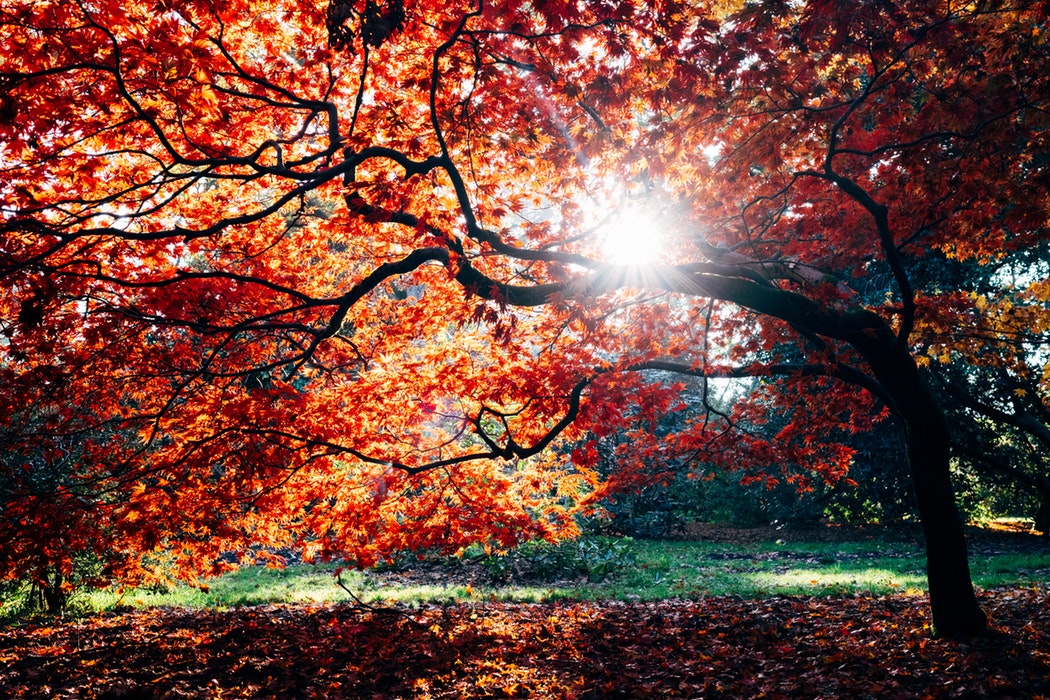 Responsible disposal of harmful substances
While washing a car, harmful substances are released, which can end up in the environment. Think of sludge and oil, but also heavy metals and asbestos. About 150 ml (a coffee cup) of these substances is released per car. In our carwash these substances are collected, filtered and removed and processed via certified companies.
Especially for companies (CSR)
Our customers can obtain a so called green-certificate from Eliëns carwash, in which we declare that their fleet is washed responsibly and green.
Proven: a carwash is more environmentally friendly
Washing the car in the carwash is not only good for your car, it is also more friendly for the environment than cleaning it yourself by hand wash. Watch this TV broadcast from Kassa.